Past Projects
Listen & Watch
Gallery
In the summer of 2017, arts ethnographer Alexa Smithwrick worked with seven OPEN DOORS members to develop and share their personal narratives.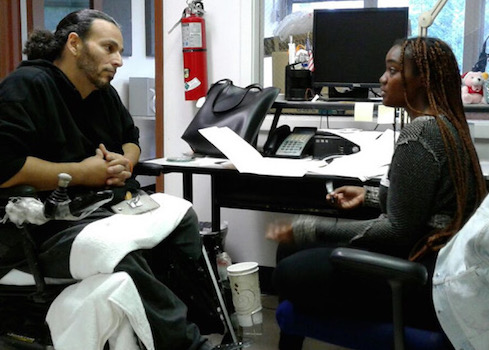 Core member Sammy Reyes with Alexa Smithwrick, Coler Hospital
---
THINGS CHANGE by Ramon "King Tito Love" Cruz
"I can do all things through Christ who strengthens me." - Philippians 4:13
Tito was born in Santo Domingo, the largest city in the Dominican Republic, but spent his early years traveling between the island and Bushwick, Brooklyn. As a child, he studied to become a percussionist, earning several consecutive spots in the All-City Orchestra and entrance to the Gifted and Talented program of Erasmus Hall High. Today, Tito continues to produce and perform music. He hopes one day to begin his own music production label.
I'M GLAD I SURVIVED by Abdul "Suluk" Johnson
Suluk was born in Metropolitan Hospital in Manhattan. As a child, Suluk demonstrated great skill and promise on the basketball court. He has played in several wheelchair leagues and indulges in long games of Scrabble. He hopes to one day study photography and to participate in a Scrabble tournament.
HIGHER LEVEL OF CONSCIOUSNESS by Ronald "Rony" Lys
Rony has lived in various Brooklyn neighborhoods since coming to the borough from Haiti as a young child. An impressive polylinguist, Rony studies and pulls inspiration from a variety of languages including Creole, Russian, Italian and German. He hopes to create poetry that provides youth with positive direction.
APPRECIATE LIFE by Vincent "V" Pierce
"They say the bond between fathers and daughters is unbreakable."
Vince grew up in Newburgh, New York. As a teen, V moved down south to North Carolina where he studied music and played on multiple basketball teams. In his early twenties he moved back to New York. Today, V's focus lies in music production and his 9-year-old daughter, Nuatej.
THE STREETS by LeVar Lawrence
"If you was the type of kid who didn't come outside and knew how to fight ... or wasn't stuck in a gang ... you got picked on."
LeVar "Var" Lawrence was born and raised in Fort Greene, Brooklyn. While other children were out playing, Var spent countless hours inside nurturing a love of drawing. A lifelong love of visual arts was born. An active family man, Var is kept going by his children; Shaequan Lawrence, LeVon Lawrence, Lequan Lawrence, Lequasiah Lawrence, Leshea Lawrence, Varnaeshiah Lawrence, and LeVar Lawrence. Today, Var works as the OPEN DOORS digital designer.
TIME WAITS FOR NO ONE by Sammy Reyes
"Just because you're in a wheelchair doesn't mean your life stops."
Native New Yorker Sammy Reyes was born and raised in Bed Stuy, Brooklyn, and spent time in Alaska and Puerto Rico as a child. Charisma and mental agility led him to a variety of jobs. Within Coler Hospital, he is known as the on-site engineer, often rigging up inventions to make the lives of his friends easier. Sammy dreams of studying electrical engineering or computer programming.
MY LIFE by Jay Molina
"
Sometimes good people make mistakes, but that doesn't mean good people have to pay for it the rest of their lives.
"
Andres "Jay'' Molina left the Dominican Republic in his late teens for New York's Lower East Side. A former professional baseball player and truck driver, Jay is now working towards a career in social healing and cares deeply about helping people living with disablities.
---
OPEN DOORS Podcast Project is made possible through a Quality of Life grant from the Christopher & Dana Reeve Foundation, which helps give greater independence to individuals living with paralysis.